Tools You Can Use Right Now
Since 2000, English Language Learner (ELL), Immigrant, and Refugee K-12 enrollment has surged in the United States. There is very little guidance offered to educators and families on how to effectively support these student populations. Continued global crises, including recent events in Afghanistan and Ukraine, and the COVID-19 pandemic have only exacerbated these disparities.
Yet there's an exception to this challenging paradigm. Fugees Family has 15 years of experience serving refugee and newcomer students in school settings with a model built on holistic English acquisition, integration of athletics for all, a trauma-informed approach to schooling, and year-round programming. Our academies in Atlanta, Georgia and Columbus, Ohio have enabled remarkable academic and life results for the young people we serve, and now we're partnering with school districts to achieve widespread impact for advancing educational justice for ELL, Immigrant, and Refugee children.
Our new VideoAsk is a free resource for refugee educators and school leaders everywhere to learn from our model and team of experts. Ask us a question!
OUR THREADS: A FUGEES-DESIGNED CARD GAME
With Our Threads, a new card game created by students from the Fugees Family with iThrive Games, play becomes a lever for care, compassion, and connection in school communities.
Our Threads was sparked by a question posed to 22 Fugees Academy high school students at an iThrive Games Studio: "What do you want teachers and other students to know, feel, say, and do when they connect with students who are new to this country and to their school?" After two days of stories, knowledge-sharing, collaborative thinking, and play, answers to this question began to take shape in games that highlighted a universal desire for empathy and tools to help facilitate it.
Our Threads, with its thoughtful mix of 108 light and thought-provoking questions and ornate, patterned covers representative of the 22 countries Fugees students hail from, builds on the same model – one in which play becomes a lever for care, compassion, and connection.
 Our Threads ($34.99) is available now for anyone to purchase and is guaranteed to make a wonderful gift and addition to any holiday festivity. Purchase it exclusively on The Game Crafter website.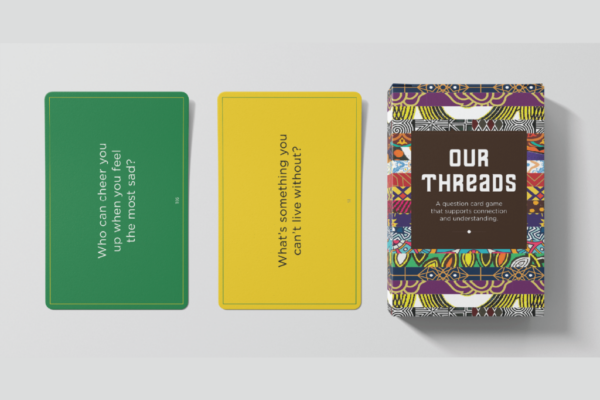 Purchase your copy of Our Threads now!